Angels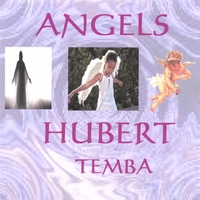 An album of passionate love ballads and love songs wailing out the answers to the questions of, and cries for love, the world has been carrying all along for ages.
Amazon.com
Buy your digital and physical copy of Angels on Amazon.
ITunes
Download songs by Hubert Temba on ITunes.
"Passages of Love"
This is a newly published book by HUBERT TEMBA, who is also an established literary master himself. "Passages of Love" is a multi-facetted book, a combination of inspirational essays. I would saw this is a mixture of the sadness and happiness that usually happens in life. For example, the author wrote the essay "Flight Security" om December 1999 that turned out to be a prediction of the tragedy of September 11, 2001 where there were a lot of losses of all kinds. HUBERT TEMBA is a winner of very awards including the Fulbright Award. He attended three accredited universities and is a very learned man. Check this page for the newest about "Passages of Love".
Buy "Passages of Love" at Publish America!
"When a Woman is In Love, She Is Prettier Than Pretty"
Enjoy 16 brand new songs by HUBERT TEMBA which also feature the title song 'WHEN A WOMAN IS IN LOVE, SHE'S PRETTIER THAN PRETTY".
Buy "When a Woman is in Love, She Is Prettier Than Pretty" at CD Baby!
On this site you can hear, select and enjoy songs from all of HUBERT TEMBA's CDs: 1. RHYTHMS OF LOVE 2. FLYIN' HIGH IN ECSTACY 3. SONGS FROM THE DRIVER'S SEAT 4. LET ME AND MY GUITARS ROCK AND ROLL YOU DOWN, TO THE GROUND 5. FIVE YEARS IN PARADISE 6. WHEN A WOMAN IS IN LOVE, SHE'S PRETTIER THAN PRETTY
"Let Me And My Guitars Rock And Roll You Down, To The Ground
Another CD by the Artist HUBERT TEMBA who has already been branded as "one of the greatest guitarists of the modern era".
Buy "Let Me And My Guitars Rock And Roll You Down, To The Ground" at CD Baby!
Buy it at CD Baby and also at MusicGhost.uk.co. MusicGhost.uk.co and Cdbaby.com are two sites that carry the entire catalog of the five CDs by HUBERT TEMBA. Just log into MusicGhost.uk.co which is located in UK and search for the artist known as HUBERT TEMBA. For CD Baby just follow the link cdbaby.com/huberttemba4.
"Five Years In Paradise"
Another music CD by HUBERT TEMBA.
Buy "Five Years In Paradise" at CD Baby!
We love CD Baby! Buy it from here. CD is also available at MusicGhost.uk.co. Search this site for artist "HUBERT TEMBA".
"Flyin' High In Ecstacy"
A live music album by Hubert Temba. On this recording done at one of the world's best known concert clubs, 'First Avenue' of Minneapolis, MN, USA -- the venue Prince shot/acted some of the footages of the eighties movie 'Purple Rain', Hubert fronts/leads a powerful trio comprising Charles Hayes (who toured with Tracy Chapman, Alexander O'Neal, among many other nationally known acts) on bass guitar, and Ron Heynes (who has gone on tour with Alexander O'Neal) and who is one of the most intuitive drummers Hubert Temba has known and played with, on drums. This CD is available at Cdbaby.com/huberttemba2 for listening, downloading or buying/or whatever you wanna do with it.
CD Baby
The future is here! The future of music outletting is CD Baby. Hubert Temba loves CD Baby. The baby in CD Baby is not actually breastfeeding. He is doing wonders for Hubert's music.
Music Ghost in UK
It carries other CDs by the same artist, HUBERT TEMBA. The other CDs are 1. Rhythms Of Love 2. Let Me And Guitars Rock You Down to the Ground. 3. Songs From The Driver's Seat
"Rhythms of Love"
This is a complete CD of 17 songs (with a beautiful photo/art work on the cover, featuring Hubert Temba holding some of his guitars including a Thinline Fender Telecaster and a very rarely made Gibson Les Paul Guitar -- if you are interested in the physical part of it). The CD is also a very compelling combination of songs and productions that has left some musicians wondering why and how a musician can do all this. Check out the CD: 'Rhythms of Love' and after listening to the first three songs, you will sense the origin of so many 'whys' " Some musicians have wondered why one can play like this and also be able to produce, arrange, write poetry, essays and books, and be a Fulbright Award Winner. (For now, no one can tell.) Talents are given by God. You can keep in touch with Hubert Temba's other musical publications by often visiting the websites cdbaby.com/huberttemba, cdbaby.com/huberttemba2 cdbaby.com/huberttemba3
Amazon
Buy Rhythms of Love from Amazon.com. This albums contains 17 songs including Barbados.
ITunes
Buy a big selection of Hubert Temba's recorded music including Barbados from ITunes.
Heaven On Cloud Seven
You always wanted to tell your lady that you loved her and you could not find the words. You always wanted to tell someone that you cared for them more than words can say. You wanted to write short little poems or long stanzas for the one that your heart loves and sings for and you could not find the words. This book will help you. People in love have an experience that many times is beyond the power of words. One can describe it as being on "seventh heaven" or a "cloud nine". But whatever cloud they are on, the experience is romantic. These poems are lyrics, songs of love without rhymes. They may act as words of appreciation for the one that you love or in a romantic relationship with if you choose so. For a change, you can create a stage where you and your lover are the actors and imagine that these words are the expressions that you will rain romantically on your beloved one with. Whatever the choice, you will be able to experience a world of your own, a joy you may not have known about. You may be able to imagine that you are speaking these words of love or these songs of praise to a loved one. Whatever imagination you may choose it is all for your own making. But these poems are romantic. They are written with the mentality of appreciating a loved one. All in all, this book is a collection of poems singing praises for and about feminine beauty. They are lyrics of love, full of love and about the love for feminine beauty.
Jewels And Pearls, Petals And Roses, Venus And The Moon
The words to the music of Hubert Temba are poetry and lyrics, full of rhymes and emotions beyond the power of description. He has more than six albums on Amazon.com and more han 90 songs on ITunes all over the world. No wonder some critics, fans and music enthusiasts have branded him "one of the greatest guitarists/inventors of the modern era", "music maestro", "virtuoso.." etc. But it does not stop there. He is a writer who can be compared to the prolific William Shakespeare, the ballad-weaving Paul Simon, the prophetic poet/composer/songwriter Bob Dylan or Jimi Hendrix. The poetry and lyrics that Hubert Temba delivers in this book give us a glimpse of the tip of the iceberg about him, props him on to a niche that only belongs to a special class of very talented creators and inventors of all time. Contained here are the poetic and lyrical words to his music that have lured and won many ears and hearts accross the world. Enjoy.